The British-Belgian Folk Duo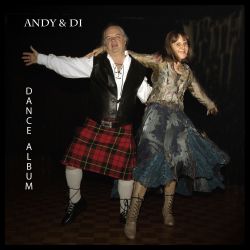 Belgium best-kept secret ANDY & DI are a British Belgian Folk Duo who continue to astound and excite in their main hobby: their music and specific in their singalongs. Words like "spontaneous humour, inspirational, seriously different, a fresh breeze, and unique ambience" constantly spring off the lips of their audiences. Their latest incarnation is as a "Folk-Comedy Duo" but they defy anyone to put them in a box and classify their music. Maybe if you crossed Frank Zappa with the Carpenters and Simon & Garfunkel you might be getting close! But it is best to examine their roots.
ANDY was born in the Beatles City of Liverpool and was brought up in the local Irish Community. He immersed himself in his main hobby, Folk and Rock Music, but simultaneously had a classical education on the violin from when he was a young child.
DI was born near the City of Antwerp and has an unique warm voice and a captivating stage presence. Together they enjoyed their common hobby and so they created a Folk Cabaret Show, mixing well known Dutch, English and French songs with their own highly unique repertoire. An important feature is the interaction and singalong with the audience, whether it is yodelling, dancing or just singing along. With their extensive use of radio microphones, Andy & di are not afraid to "crowd surf " and actively involve the public. The audience becomes the performer, the performer becomes the audience. It all melts into a lovely oneness; an unforgettable experience.
Andy & Di on Youtube: http://www.youtube.com/user/andyendi#p/u